Mignon's career journey begins in South Africa, where she studied journalism. Thereafter she did a CELTA course which enabled her to move to Hannoi, Vietnam and teach english there. During her time there she discovered her passion for teaching, and so she began working with Teach Beyond (https://teachbeyond.org/) when she returned to South Africa. During her time with Teach Beyond, Mignon wasn't as involved in the teaching aspect, and she realised that she really wanted to be! Mignon now teaches at Grace Hill College (https://www.gracehillcollege.co.za/), a private Christian school in George, based on Charlotte Mason's philosophy of holistic education. Mignon teaches English, zoology and geography to intermediate phase students (Grades 4-6). She is also currently studying part-time towards her PGCE via the Cornerstone Institute.
A typical day as a teacher
Mignon gets to school around 07:00. Half an hour later the children arrive, and the classes take register and pray or do bible study before classes begin. While there are breaks, teachers are often on duty during these breaks. School ends around 14:00, but the teachers usually have work to do afterwards, including prep for the following day, catching up on admin work, marking papers, books or assignments, as well as coaching or supervising extra curricular activities. After this long day, Mignon still studies in her free time.
What are the different routes to become a teacher?
Essentially there are two main routes:
A Bachelor of Education degree.This is 4 years long, during which you will do theory and practicals.
After doing a bachelor's degree or three-year diploma (in any industry) evaluated at NQF level 6 (according to the old structure) or NQF level 7 (according to the new structure) (360 credits in total), you can do a PGCE course. The degree or diploma you have completed must include at least two school-related subjects. There are options to do this course in 1, 2, or even 3 years, depending on your time constraints.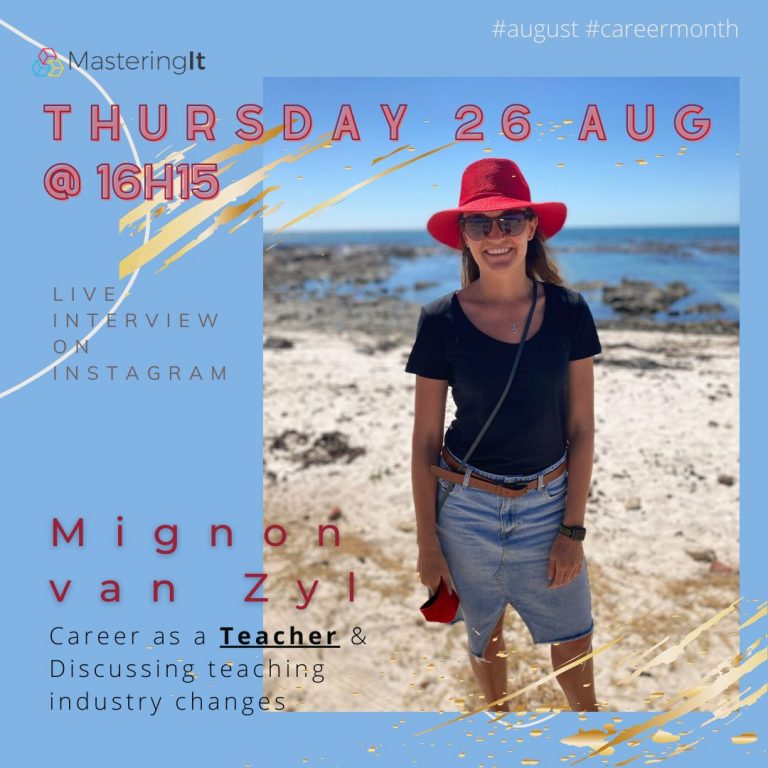 Career tips for someone wanting to enter the education field
Job shadowing. Shadow in a variety of classes, schools, age groups in order to gain a broader understanding of the education field and where you might like to fit into it.
Speak to teachers so that you have a realistic understanding of what the job entails.
Impact of Covid on education
Covid has hugely disrupted the education industry.
Many things have gone online. This may have some benefits but the negatives far outweigh the positives, particularly for schools that do not have the resources to work online or connect to their students.
There has been an increase in social anxiety due to lack of social interaction and loss of close personal connections.
Major disruption in schooling and syllabi.
According to UNICEF, learners are between 75% and a full school year behind where they should be.
The impact of being out of school far exceeds only academic issues:
Obvious loss of learning and falling behind. Not all students have access to devices, data and skills needed for online resources.
Mental distress. Children cannot see their friends and interact as they are used to. Studying at home is also challenging and stressful for many children. A lack of social interaction and physical exercise (due to cancelled extra curriculars) can even lead to depression and anxiety.
Exposure to violence and abuse.
Many children missed their school-based meals, which is often heavily relied upon.
In the long term, the skills needed to transition into adult, working lives will be affected.
The impact of Covid on schools has led to the emergence of some other forms of education that were previously less popular, such as homeschooling and tutoring. While some have found these routes to be particularly challenging, many have discovered that alternate forms of education actually work better for them!
Homeschooling
The number of children being homeschooled has drastically increased in the last two years.
Here's the basic information about it:
Until Grade 9 a parent or guardian takes responsibility for the student's education.
Between Grade 10 and 12 the student becomes a distance learner and must be enrolled at an accredited distance learning provider in order to receive a matric certificate.
While homeschooling can be challenging, as many parents have found out in the last two years, there are some major benefits of homeschooling, which may suit some children more than others:
Flexibility. Not only does homeschooling allow children to work at the times of the day that suit them best and therefore set them up for successful learning, it can also accommodate more demanding extra curriculars which are time specific.
Parents and students can decide on the pace of learning. Children are able to spend more time on subjects or topics that they struggle with, rather than being confined to a classroom timetable. The syllabus can be mapped out according to the individual child's needs and skills.
If you are looking for a specifically Christian Homeschooling Curriculum, here are some resources that Mignon has recommended:
Sonlight
Good & Beautiful
Charlotte Mason
What are some challenges and highlights of being a teacher?
Challenges:
Being a teacher is tiring! You have so much work to do, and need to be constantly present and available to the kids. You also have an incredible amount of responsibility. How you speak and respond to children can shape them in both good and bad ways. There's so much to take into consideration when it comes to your student's home lives, so you need to be kind and considerate to all.
Highlights:
As a teacher you have so many opportunities to plant seeds in children's lives outside of just academics.
Developing relationships with the kids and colleagues
Dressing up and being a kid!
Making an impact on children's lives.
Holidays!
The career of a teacher is certainly a huge responsibility, but the opportunities to give back and positively impact a child's life are beyond rewarding. Teaching is something that you need to have a passion for, but with so many amazing interactions and relationships with students it's not hard to see why Mignon is passionate about her job!
If you'd like to watch the full interview, head over to our Facebook or Instagram page!
Herewith the link: https://www.instagram.com/tv/CTCqsyvoyh8/…
- Advertisement -