Greetings to our wonderful patrons of the Arts!
We can dust away the cobwebs,
shake out the costumes,
throw the doors open
and let the freshness of spring in.
Oh, and we can let you in too!
We are not out of the financial woods yet, so any donations towards the
"SAVE OUR STAGE"
project are gratefully accepted.
In October we have the second running of CLUE ON STAGE.
Based on the board game Cluedo, this is a fun whodunnit.
Tickets are already on sale!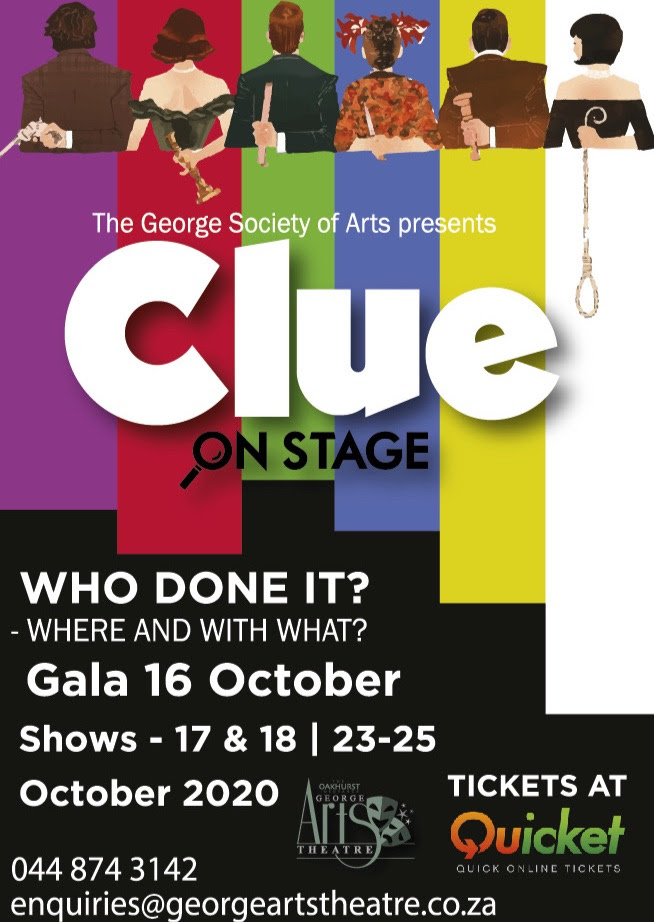 Continuous efforts are well underway to SAVE OUR STAGE and keep the theatre alive!
The Abbi Geldenhuys Academy of Ballet presents All about the Arts in November.  Proceeds from this show are very kindly being donated to the Theatre.
Show details, dates and times, can be found on the posters below.
A Theatre Anecdote
The actors, John Gielgud and Hugh Griffith, once attended the same party.
At some point, Sir John began to amuse everyone by recalling the various productions of Shakespeare's Tempest that he had seen.
He was especially critical of a particular production, saying that it had "quite the worst Caliban I have even seen.
He noticed how quiet Mr Griffith was and said, "You're very silent, Hugh.
Upon which Hugh replied, "Not as a rule.  I was just trying to recall my performance and wondering if you could possibly be right."
Footlight
"Acting is half shame, half glory.  Shame at exhibiting yourself, glory when you can forget yourself"
Sir John Gielgud
English actor and theatre director
Our mailing address is:
The George Society of Arts
125 York street
George
Western Cape 6530
South Africa
- Advertisement -